A weekend retreat to Heathen Hill Yoga: June 16th – 18th, 2017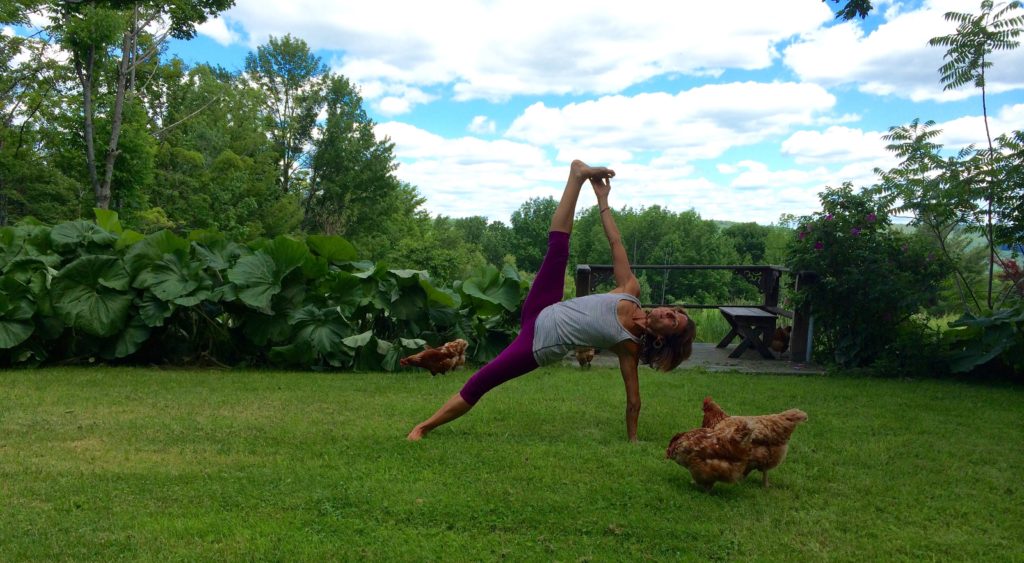 REGISTRATION IS OPEN FOR THIS ANNUAL EVENT!  JUNE 16TH – 18TH, 2017
4 SPACES REMAIN!

Grab your yoga mat and a friend for a weekend of yoga with Julie, and head up to Heathen Hill Yoga, a charming and lush retreat center off the grid in the Catskills. The Hill boasts a swimming hole, hot tub, meditation deck, walking labyrinth, super cozy rooms, gigantic veggie garden that supplies our food, and a fully equipped yoga room. This is country living at its finest!
Summer Solstice is the peak when the sun reaches its greatest height and appears to stand still. Also known as midsummer, the day of the Solstice (June 21st) marks the longest and strongest burst of light for the entire year. In our hemisphere the Solstice also is the beginning of Summer season when fireflies, BBQ's, outdoor activities and good old vitamin D are added to the playlist of life. The extra light and solar energy is ours to harness and make use of.  It can be a time when more confidence, decisiveness, unbridled joy, and a sense of freedom become more naturally available.
We'll use the practice of yoga over our weekend to shine light on what needs attention for your freedom to be expressed. Expect two practices a day, sublime meditations, home cooked healthy meals, hiking, rest, refreshing swims, and as always the freedom to make this retreat as relaxing or adventurous as you wish.
Lodging: Heathen Hill has 2 houses that are country chic and filled with personal charm, with full kitchens and shared bathrooms (unless otherwise noted). The Yoga House contains our yoga practice studio, and The Big House is Heathen Hill's newest addition that overlooks the entire meadow and property. Meals take place in The Plum House or out on the lawn when the weather allows!
Getting there: Each year carpooling works great. Train service is available and we can arrange pick up. Julie will help arrange carpools. Check Heathen Hill's website for train options and directions, right on the homepage.
What to expect:
Arrive Friday for dinner at 7:30pm and Welcoming.
3 powerful yoga classes, thoughtfully prepared to help you anchor and expand
Amazing meals by Heathen Hill's proprietor, Susan "Lip" Orem
Country living that includes wildflowers, dragonflies, a swimming hole, and nearby antiquing
Two words: HOT TUB
Sunday: morning yoga, followed by brunch, a sweet goodbye to the swimming hole and sunflowers, and a departure early enough to beat traffic.
Pricing:  All prices are per person and include yoga, lodging, incredible home cooked meals, and the sweet sounds of summer in the Catskills.  First come, first served!
Limited to 16 participants. Registration is easy using PayPal. Full payment due upon registration.