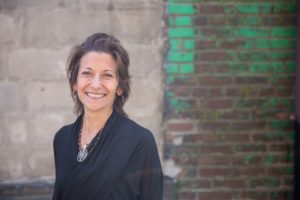 Julie is a dedicated yoga teacher and student, deeply impassioned by yoga's innate power of transformation. Teaching for nearly 20 years and has been called "a burst of prana", she teaches classes with clear instruction and intelligent sequencing with aim to help you feel integrated, strong, balanced, and more freely in touch with your spirit. Julie's classes are a living infusion of varied Tantra lineages brought to light with a mix of deep wonder for yoga, and understanding that the teachings need a practical approach to take root.  With a core belief that yoga is a powerful medium for activating spiritual connection, creative vigor, physical health, personal growth, and collective awareness, Julie helps students redefine what it means to live an essential life of yoga, including and beyond the vital daily practices.
As a Certified Yoga for All Teacher, Julie also focuses on making yoga more accessible to all students who walk into a class, regardless of their body size, appearance, gender, affiliations or identities and is committed to making the practice of yoga understood as something anyone can do.
For enthusiastic students interested in learning the depth of the practice, Julie leads the Shaktiyoga New York 200 hour Teacher Training annually, and other higher-learning programs such as Immersions, Meditation Essentials, and One-on-One Mentoring for teachers.  She guides new and experienced teachers to be observant, knowledgeable, creative, and confident.
In addition to local weekly classes, workshops, Immersions and Trainings, Julie's been honored to teach at yoga Festivals from Bali to Nantucket, and continues to lead retreats yearly to Costa Rica.
The heart of yoga is meditation and Julie has been a deep practitioner for well over a decade. As an Authorized Teacher of Neelakantha Meditation as taught in Blue Throat Yoga, she offers this incredibly simple and accessible practice to individuals through personal instruction and study to support the growth of a life long connection to ones deepest self.
Deeply inspired by yoga mythology, philosophy, astrology, and all healing arts, Julie's personal practice has been elevated through long time study with her meditation teacher, renowned scholar Paul Muller-Ortega of Blue Throat Yoga, as well as Sri Vidya and Rajanaka traditions with Douglas Brooks.
Julie offers endless pranams and gratitude to an incredible bounty of teachers who've been a blessing through the years… Jai!